Ozmac Cylinder Engineering Pty Ltd is one of Australia's leading specialists in hydraulic cylinder manufacture and repair.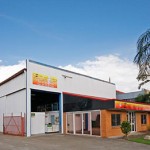 From our base in Brisbane's Rocklea, Ozmac designs, supplies and repairs hydraulic cylinders and cylinder components for clients across Australia and the South Pacific.
Since we began in 2003, Ozmac has built a reputation for fast turnaround times, value for money and excellent workmanship.
We specialise in hydraulic cylinders for forklifts, earth moving equipment and processing machinery.
No job is too small or too big for the Ozmac team. We can design one-off cylinders and related parts for highly-specialised applications, or provide low-cost, high-quality off the shelf cylinders or parts in standard sizes.
Contact us to discuss your needs.